YEEES and GAMES powered by TANGIBL invite you to take part in our Zoom workshops representing practical ideas regarding alternative ways to introduce coding to learners.
The dates and topics are:
Wednesday 3 February: 16:00 SAST
Laying good foundations – coding concepts in the early years – Kelly Bush, ICT teacher and Tech Coach – Hudson Park Primary School
Wednesday 10 February : 16:00 SAST
Unplugged coding tools –Selby Mokoena, Open Learning Plus Manager at Good Work Foundation
Wednesday 17 February : 16:00 SAST
The need for Computational Thinking skills in the teaching and learning of coding – Leanda Oosthuizen, Information Technology and Computer Applications Technology Teacher and Subject Head: Digital Technology at Alexander Road High School, Port Elizabeth
Fourth BONUS session on Wednesday 24 February at 16:00 SAST
Developing Problem Solving Skills Informally – Keith Gibson – Collegiate High School – Demonstrating how specific concrete examples of puzzles, riddles and pattern recognition and problems can be used to introduce paper-based problem solving whilst having fun! Pupils learn (without knowing) how to make use of computational thinking techniques without using any complicated technology or terminology. This is what needs to come before implementation (programming) and can be scaled up and down for any age or ability level
Please see more info on the flyer below.
Interested? Please register under this link (for one to all sessions): bit.ly/Unplugged-Coding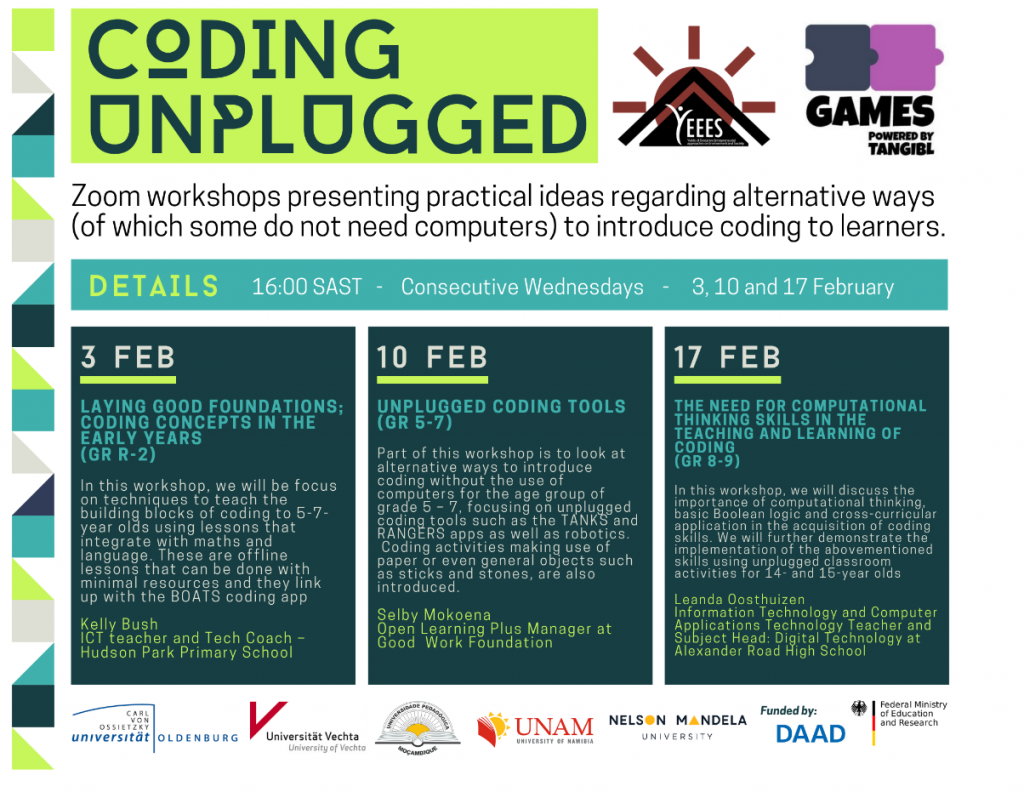 ---
Sessions and slides