My name is Marie Fürste and I am a student of the Master's program Culture,  Arts & Media at Leuphana University in Lüneburg, Germany. As a candidate for the YEEES Master Grant, I got the wonderful opportunity to travel to Namibia and South Africa in order to conduct research for my master's thesis. With my academic focus on cultural entrepreneurship and the role of art and culture in development processes, I was keen to gain insight into the local cultural sectors. Considering the conflicting histories of colonization and occupation in both Namibia and South Africa, as well as the socio-economic and cultural consequences up to the present day, I wondered if and how art can be a catalyst for social change? What are the transformational capabilities of cultural enterprises? And what is the add-value of understanding cultural initiatives as entrepreneurial ventures? With those questions in mind, I had the chance to look at two initiatives more closely during my research stay from September 2019 to January 2020: The Namibian Arts Association (NAA) in Windhoek and the South African Social Impact Arts Prize.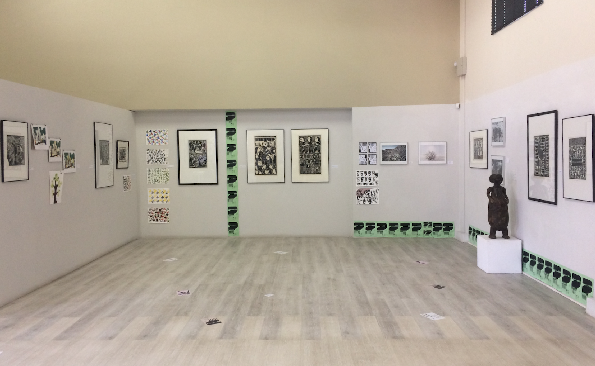 The NAA is a non-profit organization based in the capital of Namibia, which aims at promoting art on all levels of society. As a collaborative, open space it engages the dialogue through art talks, panel discussions and exhibitions, involving both national and international artists. With the Outreach and Urban Development program the NAA also seeks to reach beyond the gallery space and the city of Windhoek into less-traveled areas of the country. For the period of three months, I engaged in several events and activities hosted by the NAA as an intern — such as the organization and curation of a local exhibition about Namibian artist John Muafangejo, as well as the realization of art workshops at primary and secondary schools in more rural areas. The so-called 'Potato Printmaking Workshops' were an especially formative experience for me and showed how important it is to foster creativity at an early age. At least because art education can help children to develop valuable life-skills, e.g social competencies, creative thinking, and self-efficacy.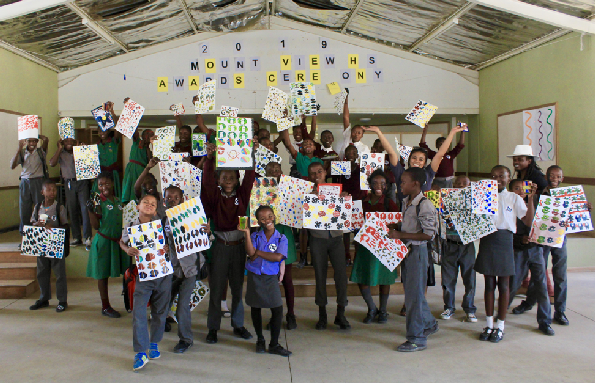 Another initiative I found highly interesting to follow up on regarding the potentials of creative interventions is the Social Impact Arts Prize. The South African project was launched by the Rupert Art Foundation and the Rupert Museum in Stellenbosch, South Africa. Intending to use creativity to tackle social issues the art prize calls for all actors of the creative sector to participate: Artists, architects, engineers, landscapers, environmentalists and cultural entrepreneurs are invited to come up with concepts developed for local communities to benefit their life-worlds. The winners of the Social Impact Arts Prize get the chance to implement their ideas through an artist residency in Graaff-Reinet, a small town in the Karoo in South Africa — to live and work with people from the community and to build a network of knowledge and skills transfer. One of this year's awarded submissions is, for instance, a water- scarcity focused project that is artwork, water station, gardening patch and free-wifi cloud in one. Young women of the neighborhood will be taught to code and update the cloud with useful content like Health, Education, and Literacy.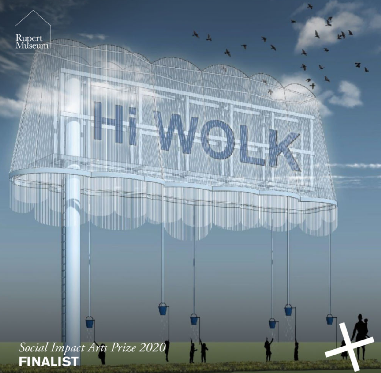 Looking back at my research stay I have to say that those four months abroad were an exceptional and quite formative experience for me, both academically and personally. Not only have I learned a lot about different cultures and customs, gained insight into local institutions and current discourses within the art world, as well as the political situation in both countries. But also, I got the chance to meet many wonderful and inspiring people from all over the world — whose stories accompany me and shape me on the ever-evolving path of becoming a more empathetic, reflective, and interculturally competent person. I strongly believe that actively engaging the transnational and interdisciplinary dialogue — with particular emphasis on artistic and cultural initiatives — is key to contribute to a more equal and sustainable future.